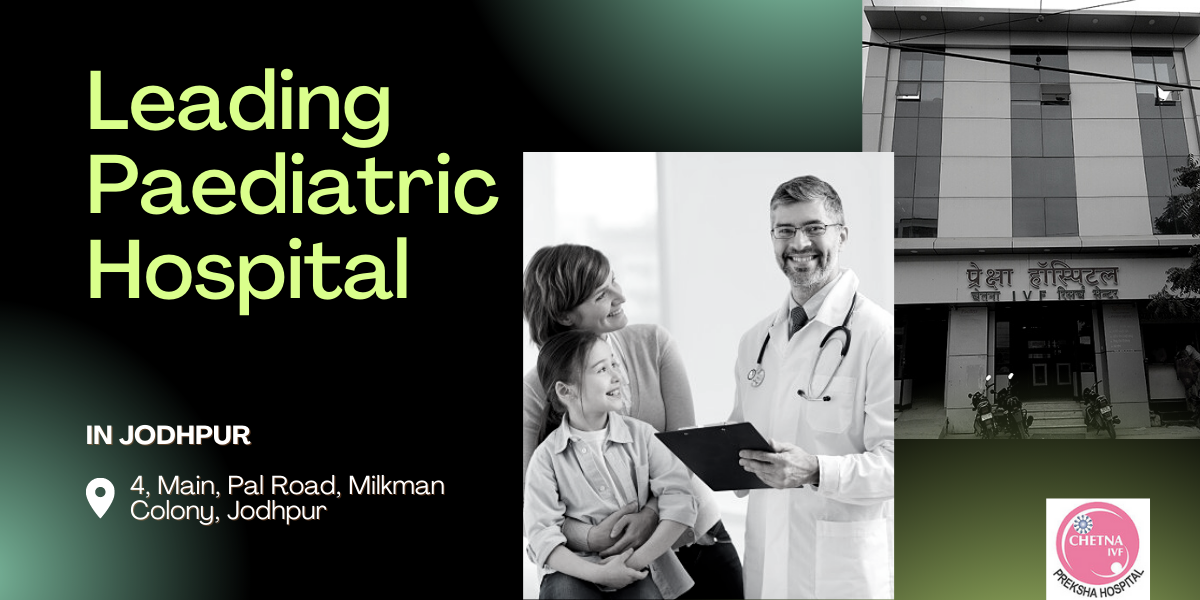 About Paediatric

Paediatric hospital or paediatric care relevant to the branch of medicine which is primarily focused on the health, wellbeing and medical care of neonates (birth to four weeks), infants and children up to the age of 17 years.

The normal issues that are treated by a paediatric medical procedure group incorporate intrinsic and formative abnormalities, infective conditions, injury and wounds, strong tumors and malignant growths. Moreover, the team of paediatric specialists also deals with the whole range of paediatric careful issues.
Advanced Centre For Child Care

Preksha Hospital is a leading paediatric center known for the best child care, treatment, and child emergence services in Jodhpur. We assure you, you can feel confident that your child will receive the best medical care at our hospital. 

Our qualified doctors are well specialised in the adverse paediatric field holding brilliant medical treatments, skills, and guidance to understand better, treat and ultimately prevent the onset of the most devastating childhood issues and ensure the best health outcomes for our patients.

Quickly book an appointment here
Conditions & Treatment

Childs are very sensitive and thereby we deliver careful treatment at every step – and that's not our job, it's our mission.

In some circumstances, we keep your children at our center and thereon, support children with a range of complex needs, including rigid brain and spinal injuries, severe syndrome, and other congenital conditions.

By leveraging the A+ grade medical care available, our goal is to improve the quality of life for both the child as well as the family.
Children's Emergency (PICU)

At preksha hospital, you get 24/7 child emergency services, this means, you may visit our center anytime to get the best child care treatment at reasonable cost for sure. In simple words, your child gets the prime and immediate attendance upon arrival.

Also, your child's care will be under the great-supervision of our pediatric critical care specialists as well as nursing practitioners, clinical support workers, and allied health staff.
What Medical Conditions Should You Seek For a Child Care Hospital?

Children's especially neonates (birth to four weeks) need frequent and aggressive care and parental supervision.

It is ascertained what happens next or what causes your children to have a severe disease or condition. At that time, you must seek an immediate child care hospital in Jodhpur. 
Here's the list of medical conditions affecting children and thereby need to visit paediatric hospital:

Sore Throat: Sore throat is a common infection occurrence in children which can prove to be a painful condition.
Urinary Tract Infection: Urinary tract infections or UTIs happen when there's a build-up of bacteria in the urinary tract.
Coughs: Cough is the body's method to rid itself of the presence of any foreign material or mucus.
Diarrhea: Diarrhea can also be a symptom of an infection, such as the stomach flu, a virus or even a bout of food poisoning.
Ear Problems: Ear problems such as intense pain in the ear usually affects children below the age of seven.
Pinkeye: Pink Eye or Conjunctivitis is a highly contagious and a common illness that affects children.
Abdominal Pain: Abdominal pain can result in vomiting, diarrhoea, and/or fever.
General Paediatric Surgery/Service at Preksha Hospital

Following are the best paediatric services followed by the team of Preksha hospital as follow:

Hi-Tech neonatal ICU (fully equipped)
Management of low birth weight babies
Complete Vaccination amenity
Anal atresia
Appendicitis
Bariatric surgery
Biliary atresia
Gallbladder problems
Hirschsprung's disease
Gastroesophageal reflux (GERD)
Esophageal atresia and tracheoesophageal fistula
Consult our expert and get quick treatment solutions and suggestions.