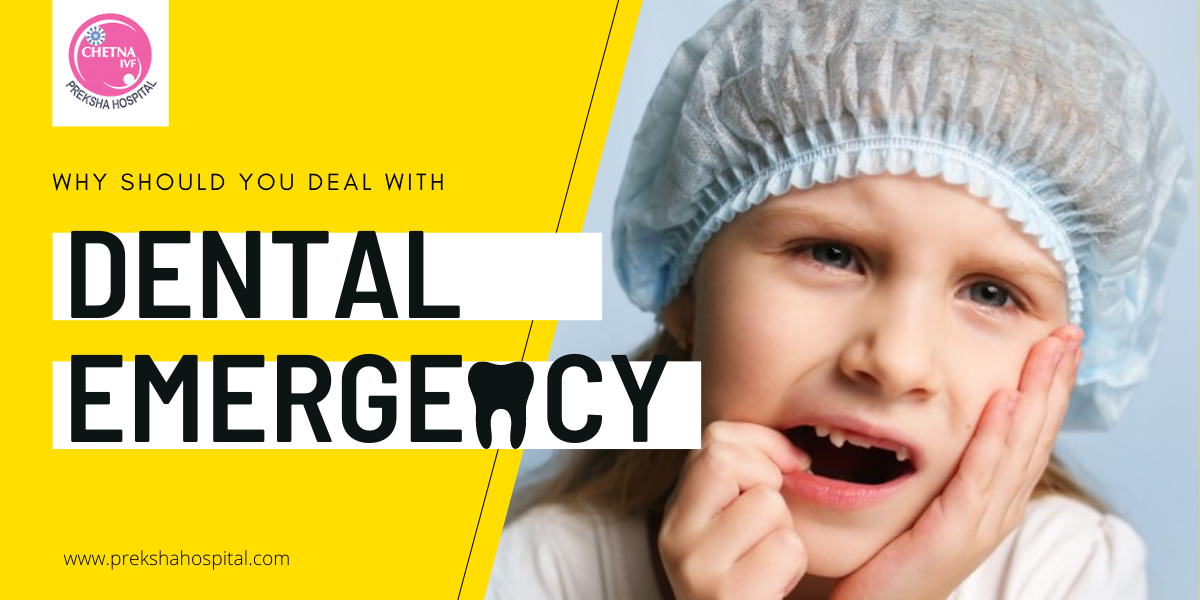 In general we sense many kinds of pain related to the body, out of which some are tolerable but some aren't such as tooth pain or other pain related to our dental.

Dull, Persistent Ache, Sensitivity to Hot and Cold, Sharp Pain, and Severe, Throbbing Pain are names of some dental pain people often perceive.

These are the pains people likely don't like to hold for longer time and hence seek for emergency dental care treatment in Jodhpur. 

Our teeth are the second most strongest bone which require afirm care and sensitive precautions to prevent from substandards.

One of the best practices to keep our teen clean and healthy is by cleaning twice a day before breakfast and sleep.

Look at the below image to learn how to keep healthy, strong, and shiny teeth…!

In this blog, we'll tell you why it is important to deal with a dental emergency immediately. We'll tell you:

What kind of issues can an emergency dentist deal with?
Why is it so important to see an emergency dentist right away if you have a dental emergency?
How Preksha Hospital can help with emergency dental care?
Emergency Dental Services

The health minister of India strongly recommends people to visit the dentist once or twice a year for a regular check-up and teeth cleaning. Dental pain can be easily rectified and cured without any wait-time.

In case you feel any of the following dental emergency issues, you must arrange for emergency dental care immediately:

Swelling in your mouth
A lost crown or filling
Injuries to your cheeks, jaws or lips
Bleeding or pain after a tooth extraction
Chipped, broken, partially dislodged or knocked-out teeth
An abscess (infection that occurs around the root of a tooth or in the space between the teeth and gums)
All of these issues can be addressed by us in emergency dental care.
Why is it important to see an emergency dentist right away?

Emergency dental treatment may rescue a person suffering from terrible-horrible pain. All you just need to do is save a nearby dentist service provider in Jodhpur. 

Although, if a person encounter any of the above mentioned emergency dental care issues might get benefits as follow:

Chance of saving your teeth. The faster you can get to emergency dental care after an injury to your teeth, the more likely your dentist can repair or save your tooth.
In the event that you have any sort of dental crisis, you are reasonable in a ton of agony.
Diminish the danger of infection (disease). Disease is a genuine worry for a physical issue. The more extended a disease is untreated, the more harm it can do.
Preksha Hospital Dental Care Benefits

Now you are aware of the importance of dealing with emergency dental care. And you are also well-prepared and ready if you have a dental emergency.

At Preksha Hospital, we're here for all your emergency dental needs. Whether you've had a tooth knocked out or are tempted with a sudden, severe toothache, we can provide prompt service to help address your issue.

Our staff has extensive experience dealing with dental emergencies and can provide you with the timely care you need.

We're here to help you with any Jodhpur emergency dental care you need.
Book Your Free Dental Appointment, Today

We are rundown with a vision to help people seeking dental care at a reasonable cost. All our dental care treatments are cost-friendly and budget-friendly. Book an appointment and start a better life with a beautiful smile 🙂