The department of Surgery at Preksha Hospital is highly regarded and primarily focuses on surgical treatments on abnormal contents including general surgery such as the appendix, hernia, gall stone, prostate (TURP), kidney stone and bladder stone. Our specialist also provides intestinal disease surgery, gynec surgery, ectopic pregnancy surgery, and more.
What Does a Surgery Doctor Do?
The surgeons and surgery specialist doctors are involved in diagnosing and treat injuries or illnesses. Mainly, Surgeons operate on patients to treat injuries, such as broken bones, diseases like cancerous tumors, and deformities.
Various Kinds of Surgery Treatments at Preksha Hospital:
General Surgery
General surgery is a concern with a surgical specialty that focuses on abdominal contents including the esophagus, hernia, prostate (TURP) stomach, small intestine, large intestine, Kidney stone, liver, pancreas, gallbladder, appendix, and other intestinal diseases.
Appendix
It is a common emergency surgery that performed to treat appendicitis. An appendectomy refers to the surgical removal of the appendix.
Hernia
'Hernioplasty' simply Hernia is a type of hernia repair surgery where a mesh patch is sewn over the weakened region of tissue.
Gall Stone
The gall stone surgery helpful in the removal of the pain of gall bladder through the surgery process.
Kidney Stone
The Kidney stone surgery helpful in the removal of the pain from the kidney through the surgery process.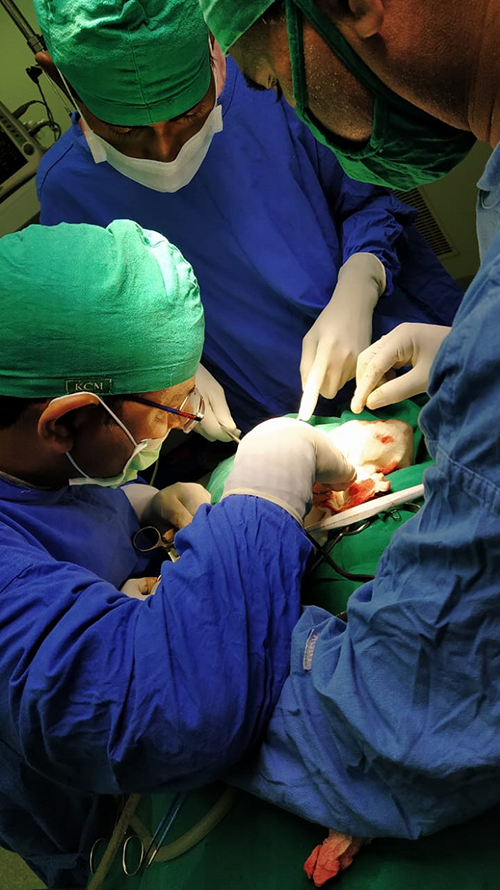 Gynec Surgery
Gynecological surgery (gynecologists) refers to the surgery on the female reproductive systems usually performed for elective and cosmetic purposes. It includes treatments such as hysterectomy, Laparoscopic, Ectopic, Complicated Delivery surgery.
Hysterectomy Surgery
The hysterectomy surgery is commonly performed by the gynecologist working in the removal of the uterus, cervix, ovaries, fallopian tubes, and other surrounding structures.
Laparoscopic Surgery
Laparoscopic surgery is performed by using a tiny camera in the abdomen or pelvis. It is used for the purpose to examine the organs of the body also known as diagnostic Laraproscopy.
Ectopic Pregnancy Surgery
In case, if the ectopic pregnancy is causing heavy bleeding, you might need very fast surgery through an abdominal incision.