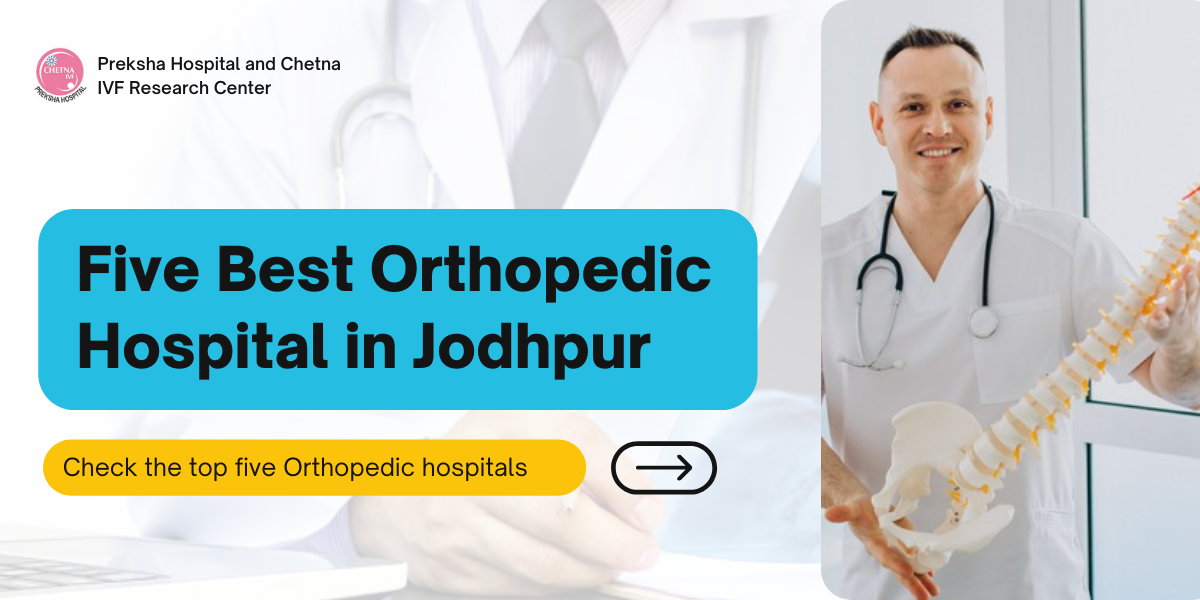 It is true that learning medical terms is as difficult as finding the best orthopedic doctors when needed.

Many people are unsure when they need an orthopedic surgeon – and where to find one when they do.

Basically, Orthopedic (Orthopaedics) is related to the musculoskeletal system. This includes bones and joints and their associated structures that enable movement – ligaments, tendons, muscles and nerves.

A specialised doctor in this field or orthopedic surgeon deals with the wide range of treatment associated with the musculoskeletal system. They are well specialized in the treatment people seek for medical concerns related to joint pain, dislocated joints, hip or back pain, arthritis (which afflicts half of seniors age 65 and older), acute, chronic, or degenerative.

These catastrophic pain are severe to handle and need immediate medical diagnosis.

So, in case you are looking for Orthopedics related Speciality Hospitals in Jodhpur – we've mentioned top five orthopedic surgeons and hospitals.

Have a look…!

1. Preksha Hospital 
Preksha hospital is a leading Orthopedic quality surgeon in Jodhpur offers complete medical solutions related to joint pain, dislocated joints, hip or back pain, and others.

The center is one of the major clinical service departments. The department caters 24 hours accident and Orthopaedic emergency services. It is fully supported by Neurosurgery, Gen. Surgery and Physiotherapy.

Orthopedic Surgeries they offer:

GI Surgeries
Breast
Thyroid
Oral Lesions
Parotid
Ischemic Limb
Coloproctologia Procedures
Hepatobiliary
Pancreatic
Contracture Release
Hand Surgeries
Accident Trauma Management
Hernia
Moreover, the hospital also caters advanced services to meet the people's emergency medical demand such as emergency care, intensive care unit, operation theater, pharmacy, and more.

Book a free appointment here or locate us
2. Goyal Hospital & Research Centre
The Goyal Hospital and Research Centre Pvt. Ltd. is one of the best hospitals in Jodhpur. Established in 1989 by Dr. Anand Goyal, has a vision to provide a host of different facilities under one roof.

Specialites:

Anesthesiology
Cardiology
Orthopedic
Gastrology
Pediatrics and more
3. MDM Hospital
Mathura Das Mathur Hospital (MDM Hospital) was inaugurated by Chief Minister Shri Harideo Joshi, and was inaugurated in 1979 with a capacity of 200 beds, which stands presently at 1142 beds.

The hospital is manevore in provide wide range of medical treatments having separate department; Cardiology, Cardiothoracic, Neurosurgery, Neurology, Gastroenterology, Radiotherapy, Urology, Nephrology, psychiatric, Ophthalmology, Dermatology, ENT and Dentistry

Services:

I.C.C.U.
OPD Services
Chemist
XRay
General Ward and more
4. Shri Ram Hospital
The hospital had recently completed 6 years of dedicated services and the hospital has gen. & Gynae-endo, urology faculties. They also offer one-roofed medical solutions for major concern problems including some critical treatments such as Spine Surgery, Orthopedics, UroSurgery, general & Laparoscopic Surgery, etc.

Services:

Ambulance Service
IMAGING U.S.G. & X – RAY
4 Operation Theatre
Centralized Oxygen System
24 hr Pharmacy Service
5. Umaid Hospital
Umaid hospital was established and inaugurated by Maharaja Umaid Singh with the aim to help women and children with their medical condition using state-of-the-art technology assets, qualified doctors, and certified staff to deliver quality and reasonable services to people.

Specialities:

General Medicine
General Surgery
Obstetrics and Gynecology
Orthopedics
To learn more about orthopedic surgery, benefits, cost treatment. Visit here